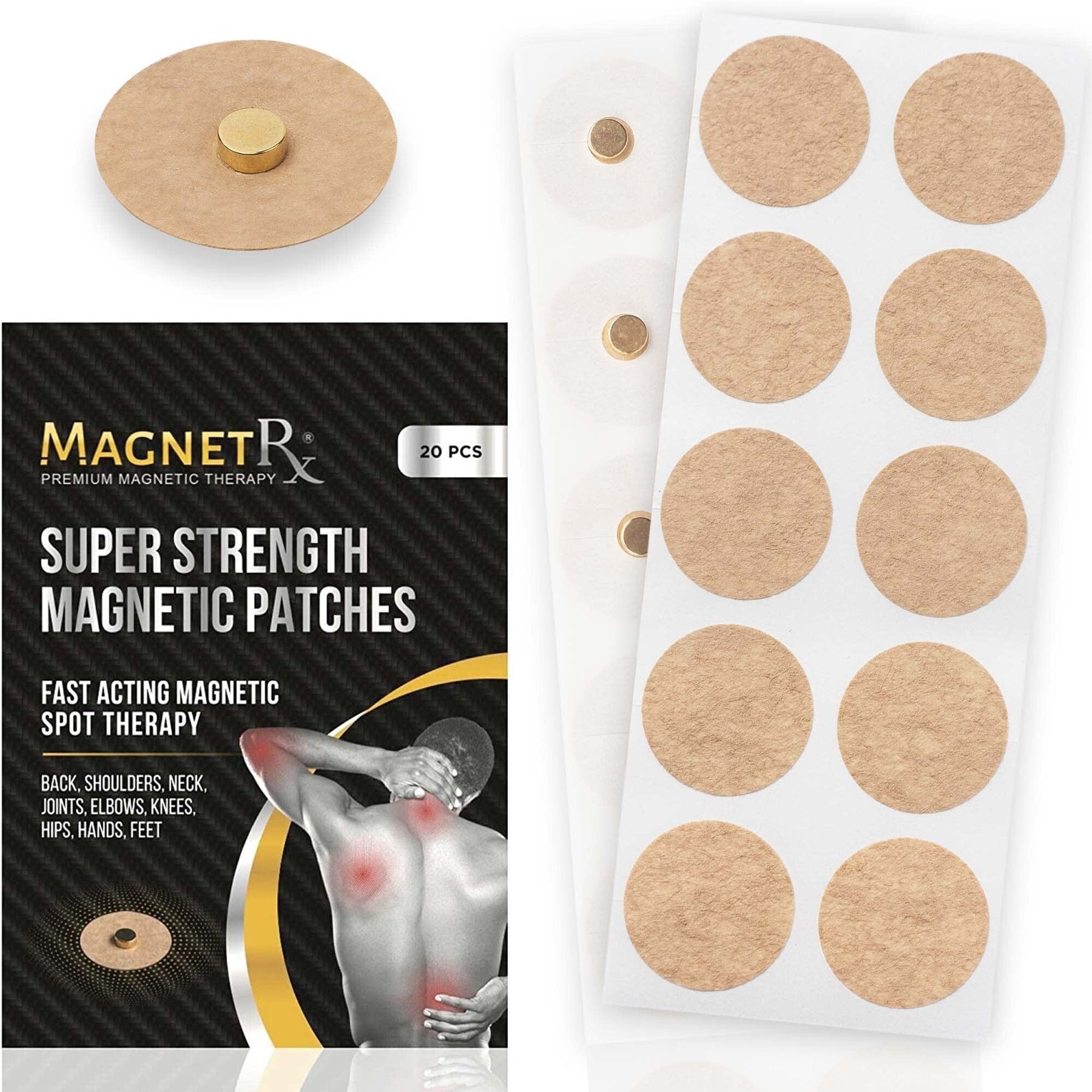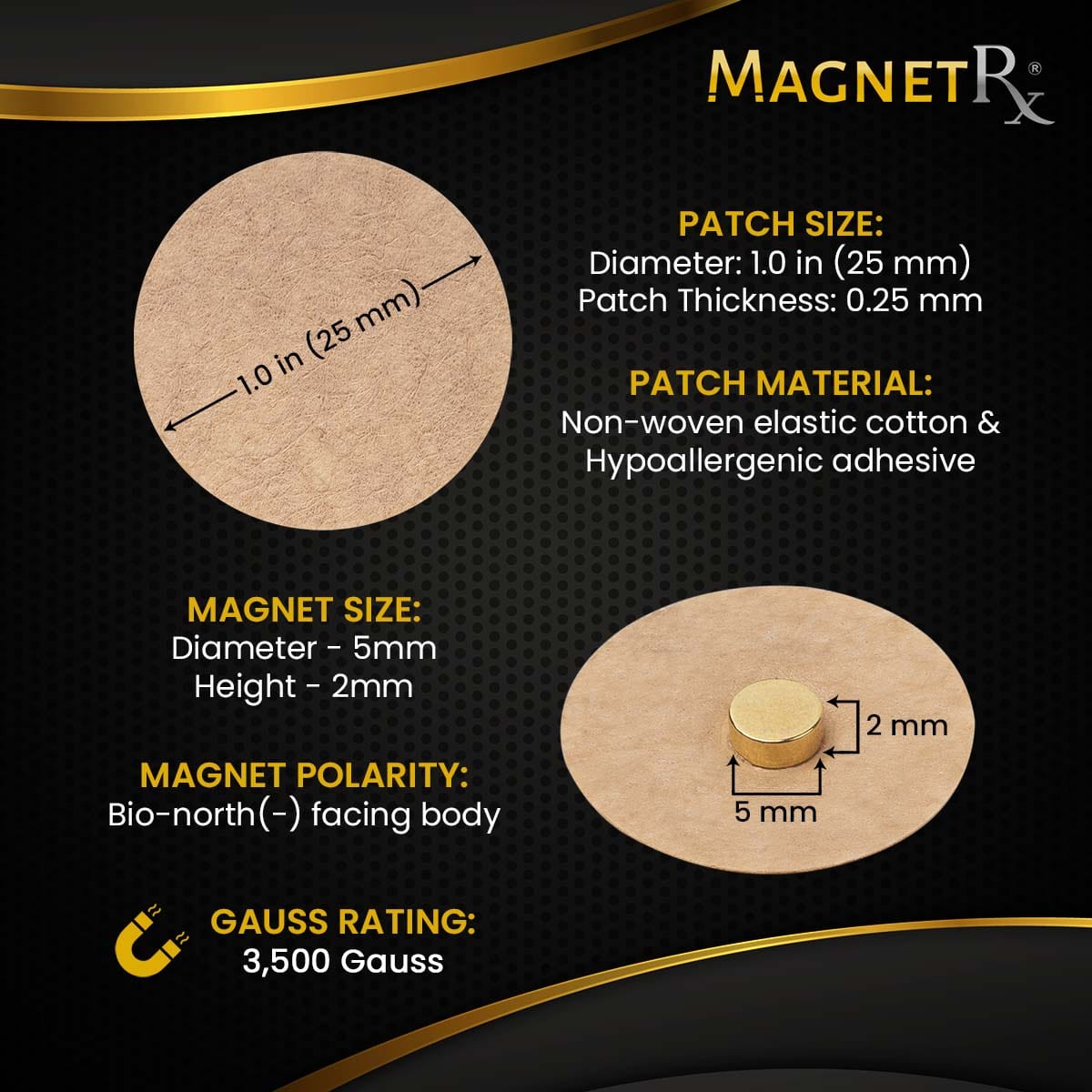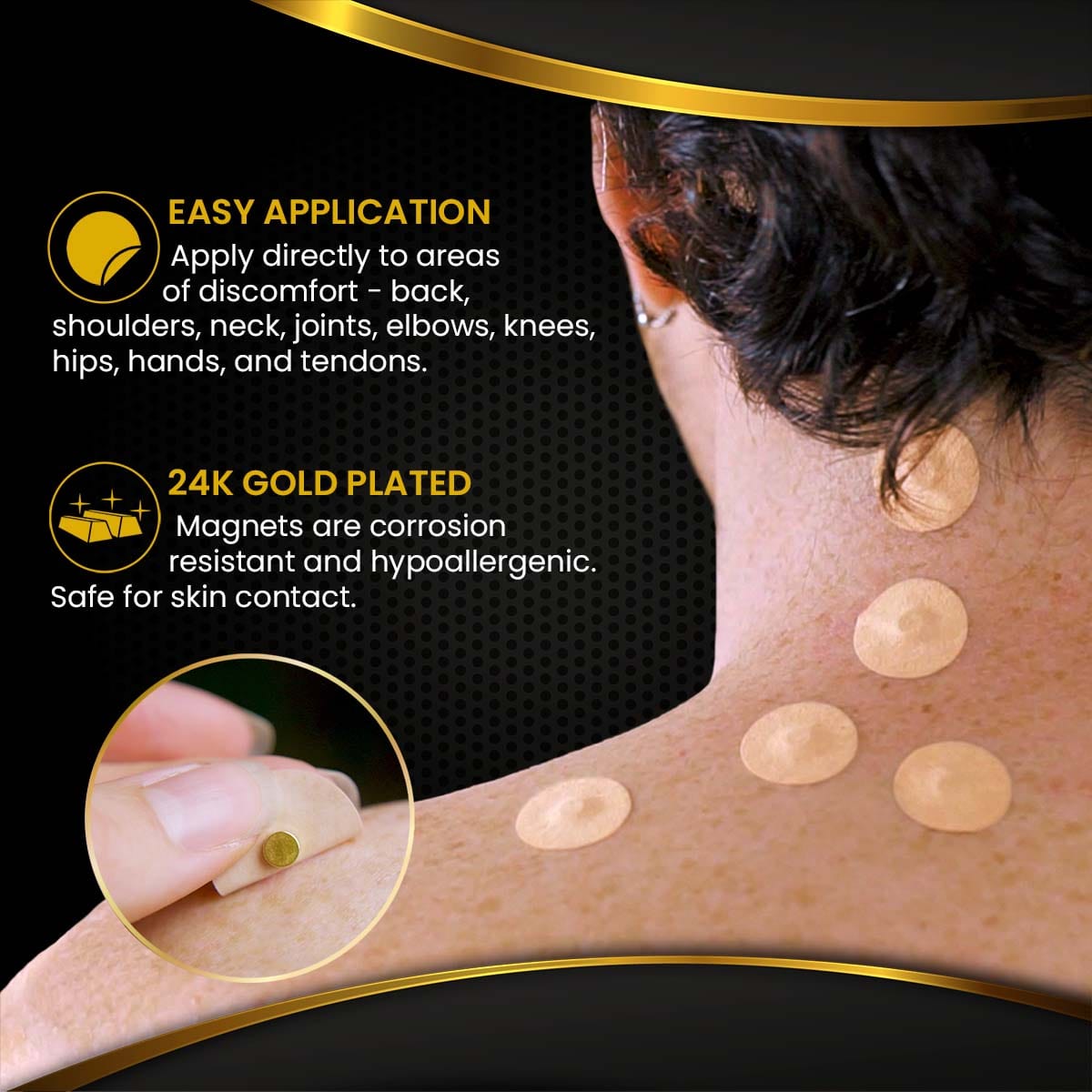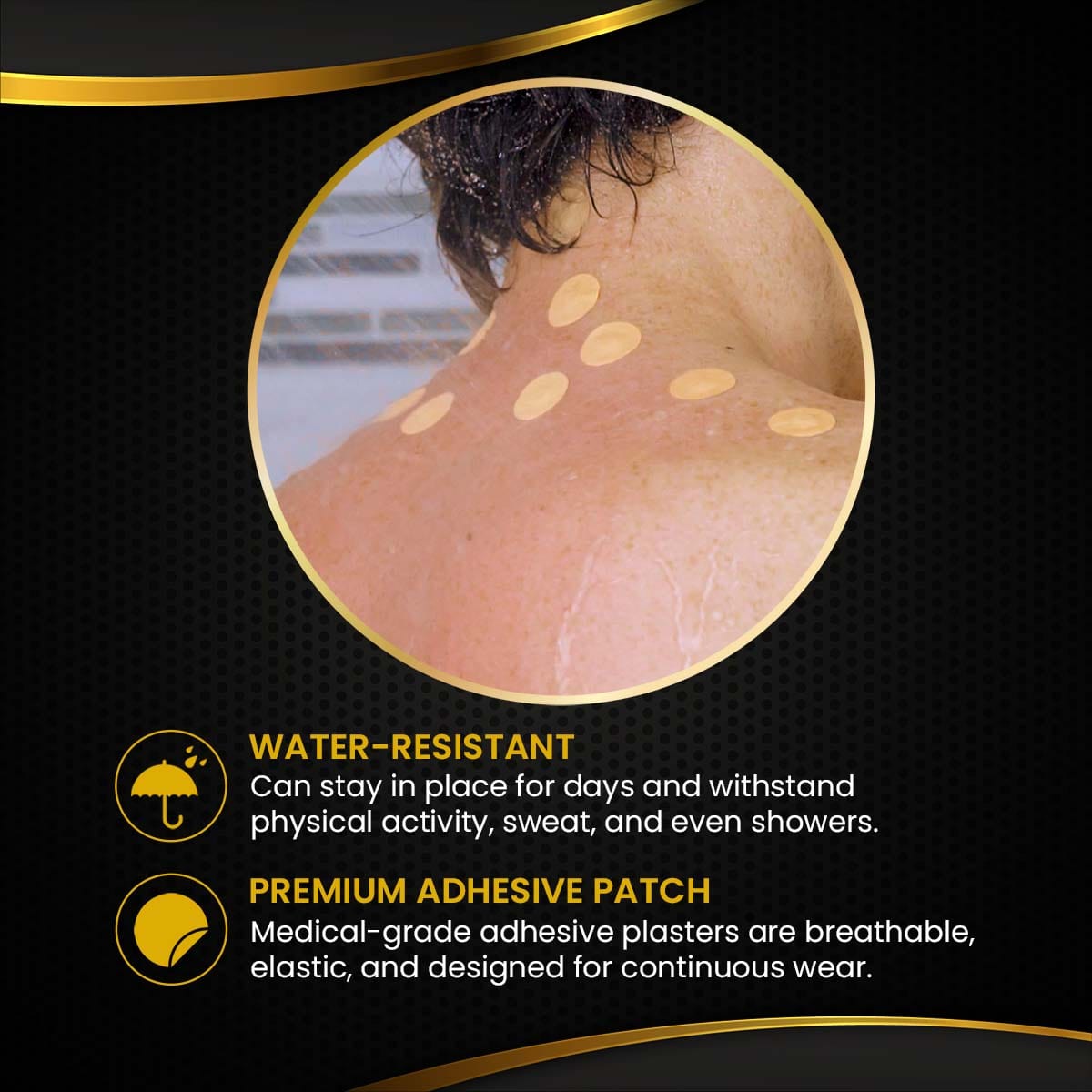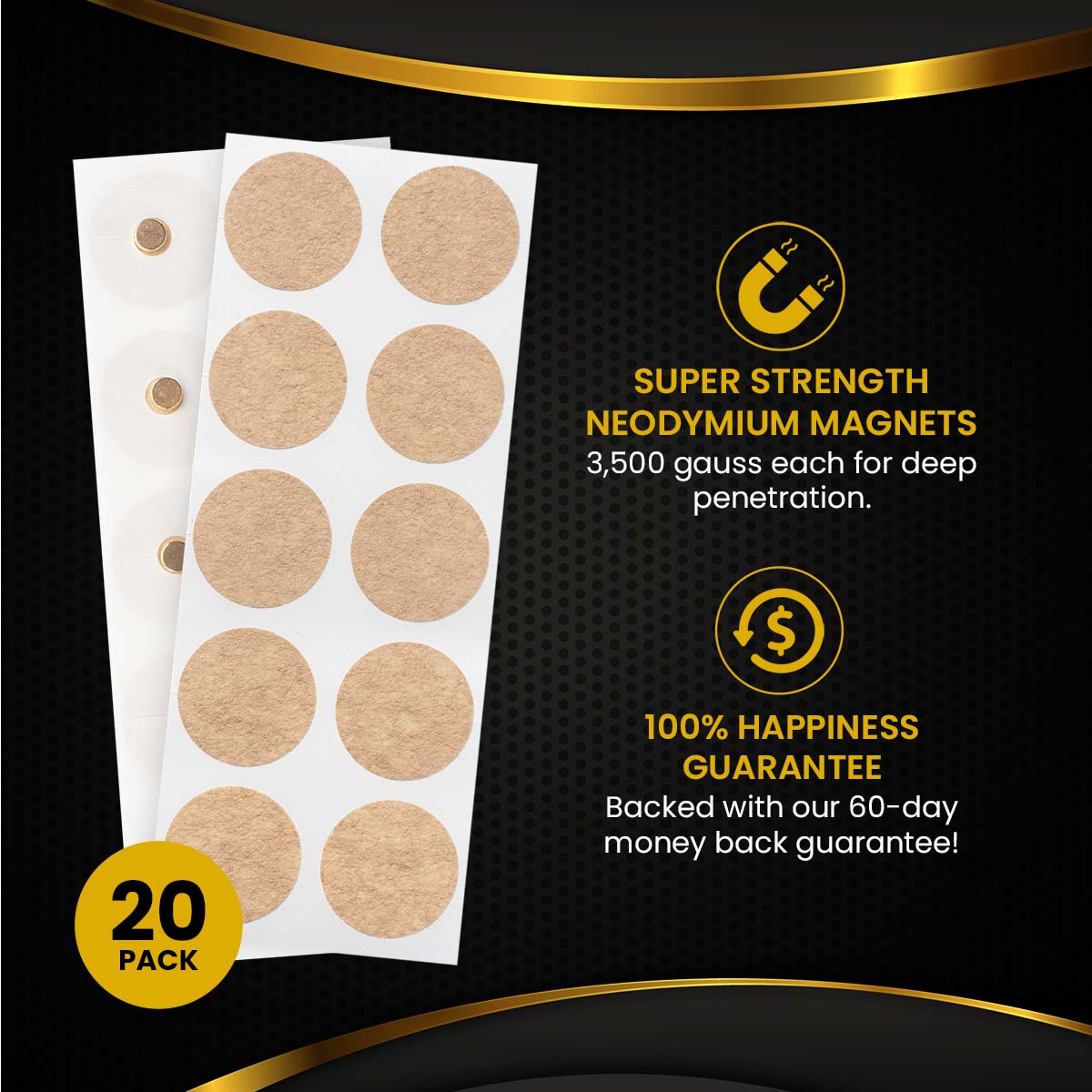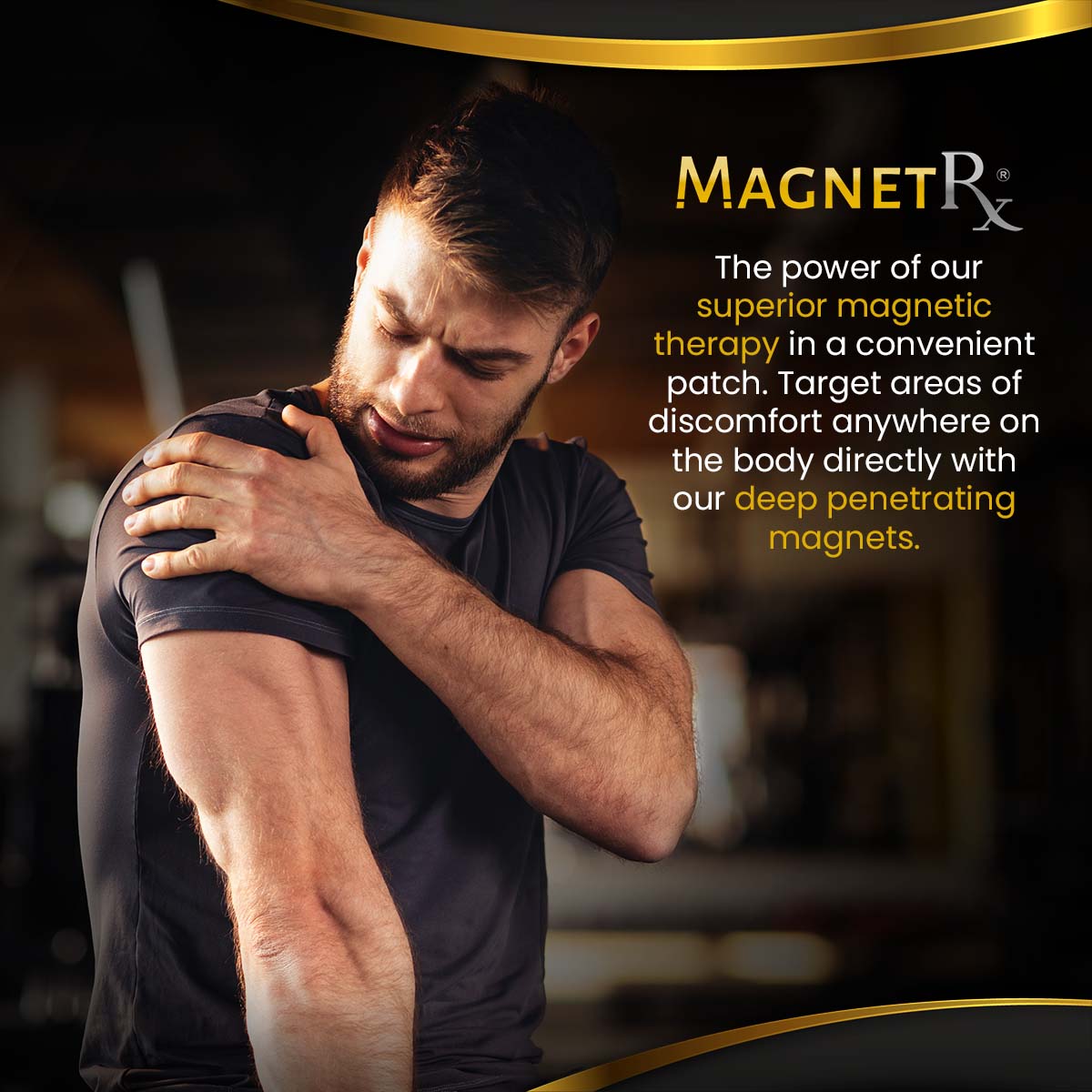 Magnetic Patches Spot Therapy Tape with Magnets (20 Pack)
In stock & ready to ship from U.S. warehouse
☑️   SUPER STRENGTH SPOT MAGNETS – Our premium MagnetRX® magnetic plasters allow you to target pain points anywhere on the body with powerful magnetic therapy.  Our magnetic patches contain powerful rare-earth neodymium magnets (3,500 gauss each) for the deepest penetration. See More
☑️   SUPER STRENGTH SPOT MAGNETS – Our premium MagnetRX® magnetic plasters allow you to target pain points anywhere on the body with powerful magnetic therapy.  Our magnetic patches contain powerful rare-earth neodymium magnets (3,500 gauss each) for the deepest penetration. The bionorth (-) side of the magnet contacts the body and the magnet applies continuous stimulation to pressure points for maximum relief.
☑️   PURE, EFFECTIVE, NON-INVASIVE PAIN RELIEF – Magnet therapy is an effective alternative medicine used for centuries to promote pain relief, reduce inflammation, improve circulation, and balance positive energy! Directly apply the healing magnets to acupressure points or areas of pain such as the back, shoulders, neck, joints, elbows, knees, hips, and tendons for all day comfort. 
☑️   PREMIUM QUALITY & HYPOALLERGENIC – Our medical-grade adhesive plasters are made with high performance elastic cotton, which is breathable, water-resistant, and can stay in place for days! These adhesive patches are safe to apply to the skin and can withstand physical activities, sweats, and can even be worn in the shower - No more allergic reactions or skin rashes!
☑️   PERMANENT MAGNETS – Each package contains 20 permanent neodymium magnets placed on round adhesive patches. These healing magnets will not lose their strength over time and can be reused on new replacement plasters. The spot magnets are each coated with 24k gold to prevent corrosion and safe to apply to the skin.
(20) Powerful

 

rare-earth neodymium magnets placed on round premium elastic cotton adhesive patches
3,500 Surface Gauss

 

per magnet
Magnets are all

 

positioned bio-north (-) facing the body

 

for deeper penetration
Permanent neodymium magnets

 

do not lose their strength

 

over time and can be reused on new replacement plasters (sold separately)
Water-resistant & hypoallergenic
Magnets are 24K gold coated for enhanced durability, corrosion-resistance, and safe for sensitive skin.
Package Content:
20 permanent magnets placed on round adhesive plasters
Product Details:
Diameter of round patch:

0.90in (22mm)

Thickness of patch:

.25mm

Magnet size:

Diameter - 5mm, Height - 2mm

Surface Strength of Magnet:

3,500 Gauss (N50 Grade)
CHOKING HAZARD: This product contains small magnets. Swallowed magnets can stick together across intestines causing serious infections and death. Seek immediate medical attention if magnets are swallowed or inhaled.

SMALL PARTS: Keep magnets away from the reach of children under 6 years and pets.
FREE SHIPPING
We offer free standard delivery on U.S. orders over $39 (3-5 business days).

All orders are processed within one business day and ship from our US warehouses. If you need your order sooner, we offer expedited shipping options that can be selected at checkout.

FREE RETURNS (USA)
If for any reason you are not completely satisfied with your purchase, you may return the item(s) within 60 days for a refund. Details.